Biography
Reverend Raven: Lead Guitar / Vocals
Born and raised on the south side of Chicago, the Reverend has been playing blues since 1974 when he first saw Freddy King play at the Kinetic Playground in Chicago. After a 15 year hitch in the navy, he settled in Oshkosh, then finally in Milwaukee, WI. Since 1990 he has opened for or performed with: The Koko Taylor Band, Billy Branch, Magic Slim, Elvin Bishop, Sugar Blue, Lonnie Brooks, William Clarke, Maurice John Vaughn, Lefty Dizz, and Junior Wells. Locally he has performed with Billy Flynn, Perry Weber, Piano Willie, Stokes, Jon Paris, Clyde Stubblefield, Bryan Lee, and the Lamont Cranston Band. The Reverend was one of five nominees for the Wisconsin Area Music Indusrty. (WAM) award for best blues band in 1998 winner in 1999.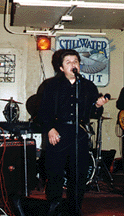 Cadillac Pete Rahn: Harmonica / Vocals
From Milwaukee, Wi., Pete is a seasoned professional with over 20 years of experience as a bandleader and sideman. Before joining up with the Reverend, he performed with Bryan Lee and the Jump Street Five in New Orleans for over 5 years, five nights a week at the Old Absinthe Bar on Bourbon Street. He has played on Bryan,s last four CDs, most recently on the live CDs with James Cotton. He has toured all over the world, most recently completing a three month tour of Europe. A world class Harmonica player and Vocalist, he is guaranteed to "shake the shack" every time he performs. "Cadillac Pete is brilliant" Director of the New Orleans Jazz and Heritage Festival. Cadillac Pete was selected the best harmonica player in Wisconsin by the Wisconsin Area Music Industry(WAM) for 1999.
Chuck Might: Piano / Organ
Chuck has been playing barrelhouse piano and Hammond B-3 organ as a band leader and sideman for over 20 years.He was a member of the Sam Lay, James Peterson, andLou Pride bands. He played on Lou Prides new CD, Twistin' the Knife.
Drew Ritgers: Bass
Drew plays electric and standup bass. Formerly with Big Nick and the Zydeco band he has been performing at festivals throughout the country. His ability to lay down a fat groove and play in the pocket has kept him in big demand on the Blues and Zydeco circuit.
Spencer Panosh: Drums
A Native of Manitowoc, WI, Spencer has made his living since the age of 17 playing the drums. One of Wisconsins most sought after drummers. He has toured with the Dave Steffen Band and played with Madison Slim, Jay Stulo, and the Mighty Aces, Bruce Koenig, and now with the Chain Smokin Altar Boys.